In 2022, there are a lot of messaging applications available and also very popular. When the matters come to privacy and an end to end encryption then there is the one messaging app that is a telegram.
It is true that WhatsApp has been used by hundreds of millions across the world and there are also some who also do not consider it the most privacy-friendly app out there. It is true there is also a rise in a comparison between WhatsApp and Telegram when it comes to the matters of privacy and security service, but the new feature of telegram will beat WhatsApp.
Here is the list of Top 10 Best Features of Telegram in 2022:
10. Editing Photos/Videos Before Sending
Now if you have a telegram then you don't need to keep any of the separate editors of image/ video to make your photos/videos more compelling. The telegram users now also able to edit photos and videos by clicking on attach file and selecting a file from the gallery to capture it via camera and after that, you can be able to edit it.
9. Web Integration for BOTs
These BOTs are nothing but a regular telegram account that also can be coded and utilized to add more features and increase user experience. You can get the bots on your top search bat on the homepage like:
@ImageBot- it sends images to relate to your keywords
@RateStickerBot. This allows you to rate random stickers and discover the latest sticker sets.
8. Polls
Polls are telegrams new feature that works on vote channels and groups they also user many things. There are three kinds of Polls:
Visible Notes: The creator is able to allow everyone in the group to watch who voted for what.
Multiple Answers: It is the best way to fix the score by allowing the members by selecting multiple answers.
Quiz Mode: There is just only one correct answer that can energies anything from public service exams to trivia games.
For creating a poll in a channel or group you just simply have to select the poll option.
7. Self-Destruct Messages on Secret Chats
Sometimes you may not want to reveal any evidence left as to what nonsense you are about to say. Instead of deleting chats manually, you can use self-destructive messages on secret chats by setting a timer. You just have to sweep the right of the homepage and tap on "New Secret Chat".
6. Sharing Live Locations
This feature is one of the useful ones as your way to a meeting or trying to coordinate along with the friends at a large event. It also sends such static locations every minute, you can able to share your live location with your friend circle for 15 minutes, 1 hour, or 8 hours, and you can stop sharing at any time.
5. Sending Uncompressed Images
On the other messaging applications while you are going to send uncompressed media you have converted it into another format like EXE or PDF. In Telegram, you can send directly that uncompressed media.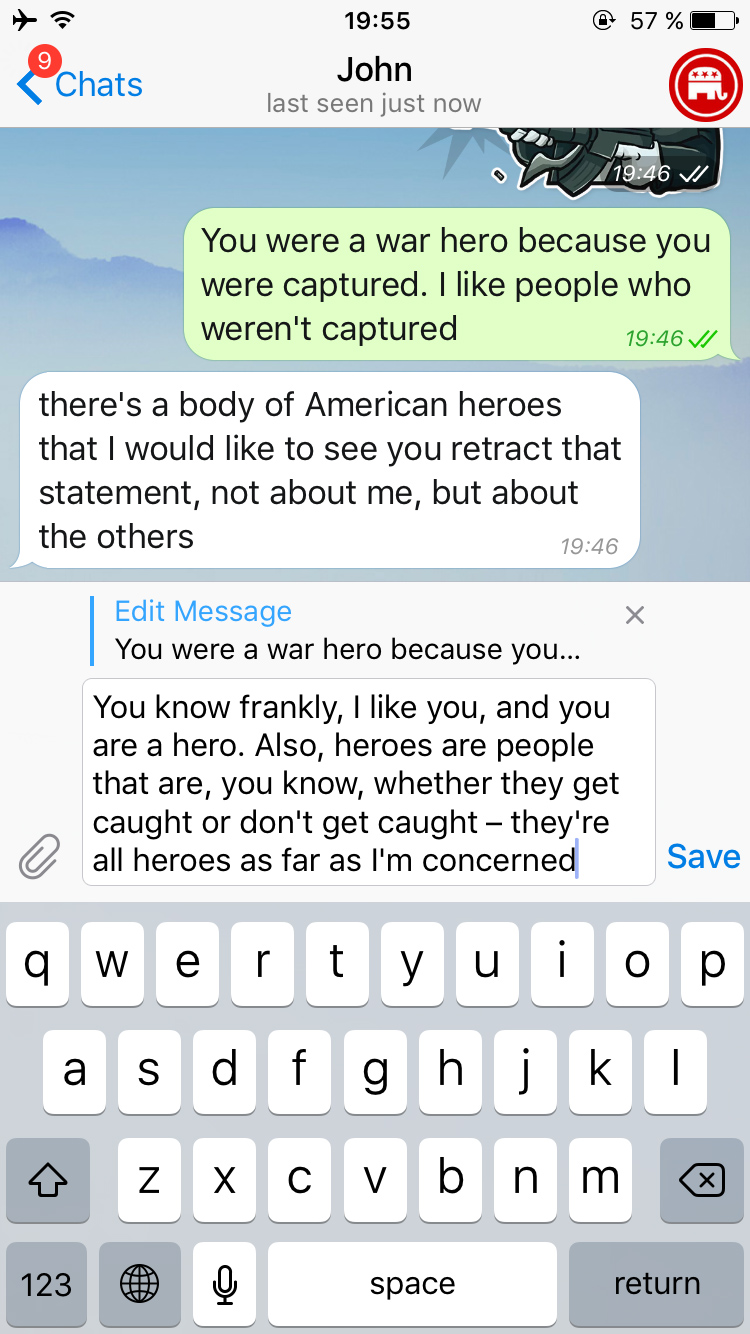 4. Sent Messages
It is one of the best and unique features available in telegram. If you are mistakenly sent a message to your friend, colleagues, or anyone, it cannot be reedited in the other applications but in telegram, you can quickly make it correct with the edit feature. You just have to press and hold on to the message the click on the edit option.
3. Adding People on the basis of location
Telegram now gives the permissions as you can able to add people who are near you. Like if one person on the other side anyone made his/her profile visible then you can see the name and you have to just tap on the name to exchange the contact info. You also can make a group based on location like a   local group that is working in a small region  fo0r co-workers, students, or neighbours.
2. Create APIs
Bot API: this API is used to build programs that use Telegram messages for an interface. MTProto encryption protocol. The intermediate server handles all of the communications with Telegram API.
Telegram API: It allows you to create your own customized Telegram clients. You can able to read the open-source Telegram code. It makes it easy to manufacture feature-rich and secure applications. It also takes care of the local data storage, and network implementation details.
1. Security
This is Telegram's one of the best features. Now it is based on the MTProto protocol that is also built upon a time also tested algorithms. The allows high-speed reliable messages. Cloud chatting uses server-client encryption while the Secret Chats use an additional layer.
A big thanks for the source.